RED DWARF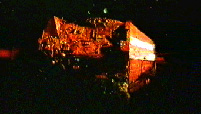 What is Red Dwarf
On 15th Feb 1988 a new SCI-FI sitcom was broadcasted on BBC2, since then fans have never looked back. Based on the Radio 4 sketch 'Dave Hollins - Space Cadet' from the show Son of Cliche written by the duo Rob Grant & Doug Naylor, starring Nick Wilton and Chris Barrie playing Hab the computer.

Grant & Naylor decided to create a new comedy series using this as a basis. Dave Hollins became Dave Lister, Hab became Holly, and Rimmer and the Cat were added.

The first episode explains how Dave Lister is put into stasis for smuggling a pregnent cat on board, which during this time Rimmer fails to replace a drive plate properly causing a massive leak of Cadmiun 2 radiation killing the entire crew, except for Lister and his Cat, who is safe in the hold. Holly is unable to release Dave for three million years, meanwhile the cats breed and slowly evolve over the three million years.

Holly is able to maintain one hologram and decides the best person to keep Lister sane is Rimmer, Listers bunk mate and hated by everyone. Also one cat has survived whom Lister quickly befriends.

Follow me to Main page.